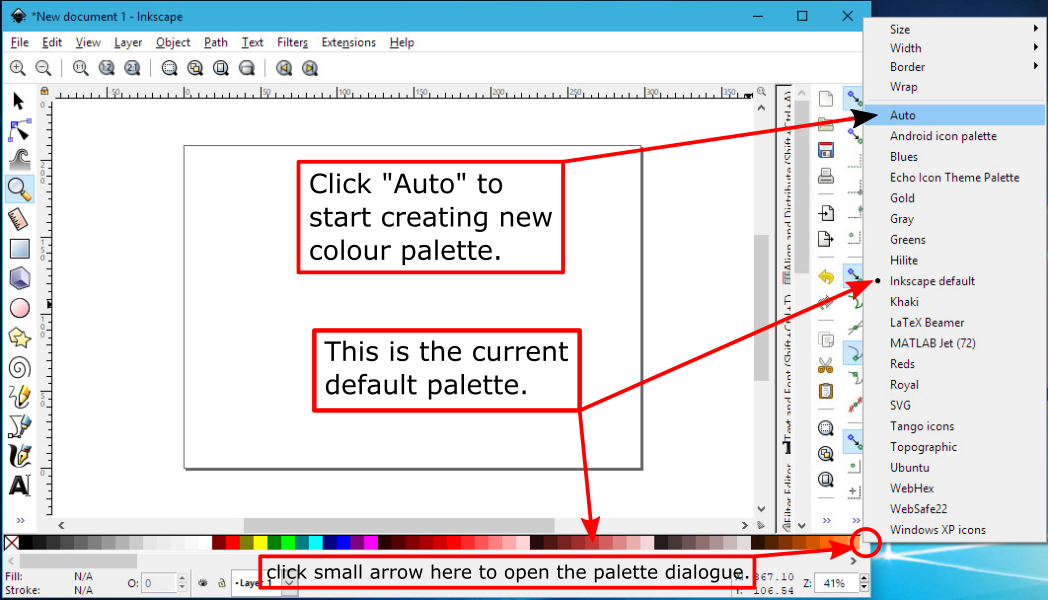 NOTE 1: creating a custom colour palette in Inkscape requires writing a *.gpl file to the Program directory. Computers on campus will generally not allow you write to this directory and so any work you do will be lost unless:
After you create your colour palette, save the Inkscape file as MyColourPalette.svg. Now whenever you want to create a map, poster or other document with your custom colour palette, open this SVG file to use as a starting point for your current project.
If you create the palette on your own computer, where you have administrator privileges, it should be available to you through Inkscape as one of the standard palette options. (Windows -  C:\Program Files\Inkscape\share\palettes)
NOTE 2: to illustrate the procedure, I will be using the Lakehead University Corporate colour palette (Lakehead University, 2016). As specified in the Lab assignment, you will be required to use a palette included in the Cartographer's Toolkit: Colors, Typography, Patterns (Peterson, 2012) which is available in the GDC, RC2001.
Inkscape Colour Palette Video Tutorial
References
Lakehead University. 2016. Lakehead University Brand Guide Book: April 2016. Downloaded October 16, 2018 from https://www.lakeheadu.ca/sites/default/files/uploads/395/Lakehead_Brand_Guidelines_April%2016%20low%20res.pdf
Peterson, G. N. 2012. Cartographer's Toolkit: Colors, Typography, Patterns. PetersonGIS: Fort Collins, CO.