Signing in to ArcGIS Online Organization
New AGOL Accounts
Our ArcGIS Online Organization has recently moved to an enterprise login system (often referred to as Single-Sign-On (SSO) login). This means that all current students, faculty, and staff at Lakehead University will now be able to access ArcGIS Online, a license to ArcGIS Pro, and associated applications by signing in with their Lakehead University credentials.
Organization URL?
The first time you attempt to sign in to ArcGIS Online you will likely need to enter the Organization URL.
Click the drop-down arrow for "Your ArcGIS organization's URL"
Enter "LUGDC" and
Check the box "Remember this URL" as seen in the image below.
Click "Continue"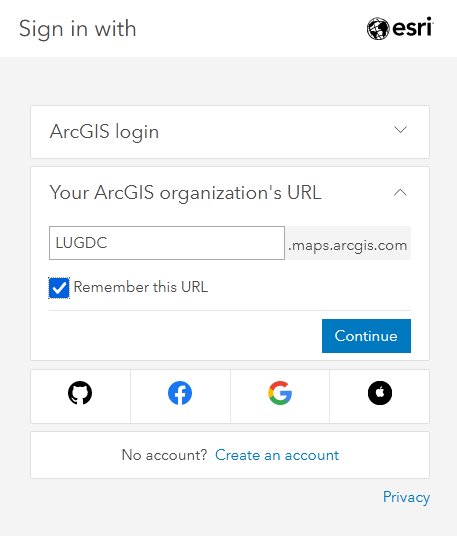 Click on the blue "Lakehead University" button to go to the enterprise login page. This is the same page used to sign into MyInfo and other integrated Lakehead University Services.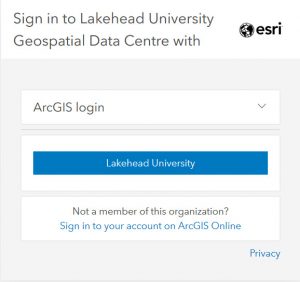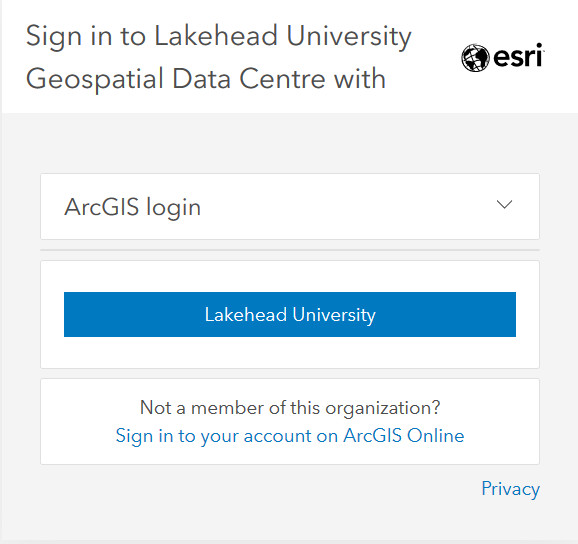 You should now see the option to sign-in through Lakehead University each time, unless you clear browser cookies in which case you will need to enter the Organization URL again.
Important News for Existing Accounts
If you have an account created prior to February, 2021, please note that you can sign into your existing account by clicking on the dropdown arrow beside "ArcGIS login".
Clicking on the blue "Lakehead University" button will create a second independent account but none of your current content or groups will be associated with it.
There will be instructions about transferring your content to the new SSO accounts forthcoming. The accounts created before February, 2021 will be gradually phased out.
ArcGIS Pro is a full-featured desktop GIS application designed to run on Windows 10 desktop and laptops. It is tightly integrated with ArcGIS Online and is a great way to compile, analyze, and publish your spatial information.
Please see our ArcGIS Pro page for instructions to download and install ArcGIS Pro. Be aware that the installation file is over 1.5 GB requiring a reliable internet connection and substantial time to download.